PROJECT CLOSEUP: Bose "Hit a Hire Note" ERP
EMPLOYEE REFERRAL PROGRAMS posed some of my most interesting challenges when I wrote recruitment advertising. At TMP/Monster.com we could let our powers of invention run wild, devising all sorts of themes and schemes that might encourage employees to refer their friends for jobs.
How about a drawing? Sure, let's dangle a chance at a big prize or lottery-style scratch ticket to anyone who made at least one referral.
Or maybe a competition? Yeah, we'll do a sports theme with weekly stats and standings for the league leaders, leading up to Super Bowl tickets at year's end for the winners.
Why not a scavenger hunt or treasure map? Hey, check a few of these job titles off your list and you might find yourself on the trail of a treasure trove of cash and merchandise.
And don't forget "Survivor" -- it was new then, so we all had Tiki torches and exotic destinations on the brain, with the top-referring teams strutting around in beads or necklaces while pursuing the ultimate hiring challenge.
What younger folks might not understand or believe is that the dot.com era was an incredible seller's market for talent. Companies would actually DO these programs! Referrals were proven to yield a better employee fit, saving HR specialists money and time otherwise wasted on bad hires. That's why Bose could offer bonuses in the neighborhood of $30,000 for a referral leading to the hire of an elite acoustic engineer or scientist.
Which brings us to "Hit a Hire Note."
Bose's culture of great sound and high performance crescendoed in a musical ERP.
"The Bose Search for Talent"
A good ERP reflects its host's ethos, communicating to employees and prospects alike what makes the company a great place to work. Since Bose was one of the biggest names in sound and played to that with musical events at its campus, my creative director Rob O'Keefe suggested the musical theme. Then I went to work on a writeup that could work with the company's pecking order: virtuoso scientists and engineers, elite teamwork, worldwide venues.
The ERP website at hirenote.com helped funnel priority prospects into HR, while -- ahem -- setting the tone of the program: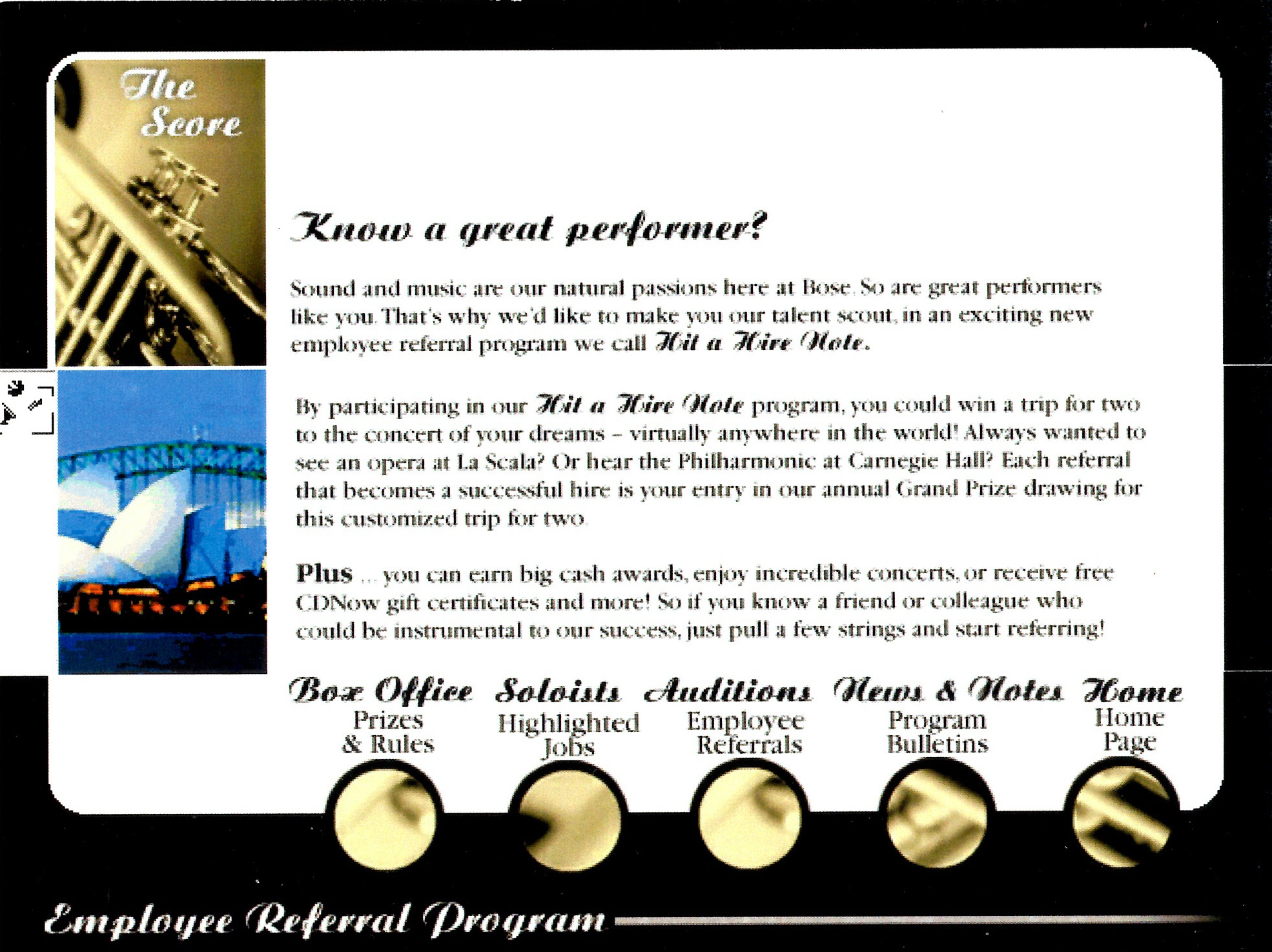 A Symphony of Sell
The detail that went into ERP planning was pretty amazing: kickoff events to build awareness and excitement, easy low-level prizes such as CD gift certificates and cut-rate event tickets to give people a taste for participation, regular concerts to maintain momentum, internal winner bulletins to stoke competitiveness and envy, plus a big grand prize event culminating in a trip for two to a prestigious musical venue such as La Scala or the Sydney Opera House.
It was actually quite educational. My time in business-to-business advertising had taught me that corporate purchasing processes are often very sequential and ironclad. In those settings, products aren't sold -- they're bought. You have to support every stage to end up with a successful result. And as it turned out, planning ERPs for elite professionals with lots of options turned out to be quite similar. They had to be wooed.
Ultimately I ended up leaving TMP after this program kicked off, so I never did find out who won or where they traveled. But I still have a soft spot for the program, and respect for a brand that could get behind such a creative approach. Bravo, Bose. | DC |